Main content starts here, tab to start navigating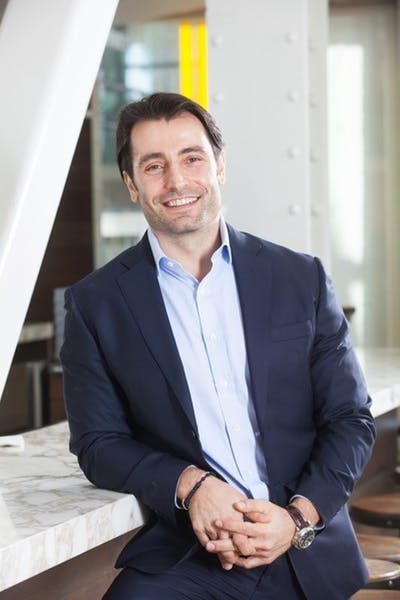 Eric Papachristos
Co-Owner
Eric Papachristos is a self-made restaurateur whose interest in the hospitality industry formed at an early age. Although born in Boston, he spent the first nine years of his life in Thessaloniki, Greece—a formative experience that fostered his affinity for Mediterranean cuisine and his desire to bring people together over a good meal. In 1998 and 1999, he graduated from Suffolk University with a Bachelors in Business and a Masters of Business Administration (respectively), later earning his Masters of Science in Finance at Northeastern University in 2003. His career trajectory has been distinct for its depth and diversity, with work experience spanning from Food & Beverage Manager at LA's Standard Hotel to Financial Business Manager at Harvard University's IT department.
In 2011, Papachristos partnered with chef Jody Adams and operations manager Sean Griffing to open Boston's award-winning restaurant TRADE, located at Atlantic Wharf. In 2016, the same energetic team opened Porto Boston, an upscale casual Mediterranean inspired space with a fresh and relaxing energy in the heart of Back Bay. Most recently, Papachristos and Adams, partnered with COO Jon Mendez to open Saloniki - a fun, energetic, Greek sandwich shop with a focus on sharing their expertise on Greek food and culture with Boston natives. Currently, there are three Saloniki locations in Boston's Fenway and in Cambridge's MIT/Central and Harvard, and more are on the way. Driven by his sense of wanderlust, Papachristos takes annual trips back to the motherland with his brother and Mendez, to explore his roots and the food culture that inspired Saloniki.
A health enthusiast, he is devoted to CrossFit's rigorous workouts and is certified as a CrossFit Trainer. Additionally, Papachristos, along with team Trade/Porto, rides 192 miles in two days, in the Pan-Mass Challenge to raise money for The Dana Farber Cancer Institute - a tradition the team has kept up for 10 years now.